Nora's Cottage
On Saba, natural beauty and ancestral history are very often intertwined in the stories of property and cottages. So it is with Nora's Cottage, a charming residence that combines both a spectacular location and a history filled home.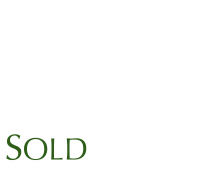 From this traditional cottage, sitting approximately 1100 feet above sea level, the views spread out before you serving up seemingly endless expanses of the Caribbean Sea, dotted on the horizon with the verdant peaks of St Eustatius, St Kitts, Nevis and even Montserrat on a clear day. Behind you, the topical mountainsides and valleys of Saba create an "inland sea" of green sprinkled with little villages and homes built in traditional Saban vernacular.
Nora's Cottage has been in the same family for over a century. The residence, affectionately called "Snug Harbor" by the original owner, is classic Saban with white wall, red roof, fret-work trim and green and white shutters. Beginning life as a small home, the current owner's mother added extensions to create a more spacious two bedroom/one bathroom cottage with terracing. Even more remarkable is Nora's Cottage close proximity to Windwardside Village, giving you a beautiful blend of natural beauty and refined civilization.